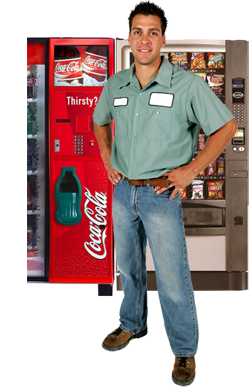 For clean and reliable Snack Vending Machines, Coffee Vending Machines, Cold Food Vending Machines, Coca Cola Vending Machines, and Pepsi Vending machines call Nashville Vending today. We offer customized solutions for businesses of all sizes in all fields. Your employees no longer have to go without at break time. We can provide you free, subsidized or paid vending to ensure that they have all of the snack and beverages they need to keep them happy and productive.
When it comes time for everyone in your office to go on break do they run off to the store, sub shop or coffee shop? It takes time to get a workforce going after a break like that. It's one thing if it's a lunch hour but can be a problem with fifteen minute coffee breaks. Solve that problem by having us provide you vending machines that will keep your employees well stocked with snacks and drinks.
We provide service in the greater Nashville area including Nashville, Hendersonville, Millersville, Goodlettsville, Lakewood, Bellemeade, Brentwood, Forest Hills, Perry Hill. If you manage an office or warehouse in any of these communities give us a call and we'll provide you with a vending solution to keep your employees in the building during breaks.